Drivers in the Phoenix metro area spend about 34 hours stuck in traffic each year. This traffic is one of the many reasons that many individuals leave the driving to someone else and ride an intracity transit bus provided by the Valley Metro Regional Public Transportation Authority.
Additionally, for those wishing to head out of town, Greyhound offers one-way trips from Phoenix to other parts of the U.S. southwest, including Los Angeles, Albuquerque, San Diego, San Bernardino, El Paso, Calexico, and Yuma.
Buses help communities address traffic congestion through the provision of public transportation. However, intracity buses such as those provided by Valley Metro in local communities and intercity bus lines such as Greyhound carry hazards. Buses risk maneuverability issues due to size, negligent motorists on the roadway, and failure of bus drivers and those responsible for maintaining bus station premises to ensure walkways on the bus and in the station are free from hazards that could injure a rider.
If you've been injured in a bus accident, an experienced Phoenix bus accident lawyer from Hutzler Law, PLLC, can help you understand the process of seeking compensation for your injury.
Table of Contents
Speak to an Injury Lawyer
Have you or your child been hurt in a public transportation accident? Get the legal help you need today with Hutzler Law.
How Bus Accidents Occur in Phoenix?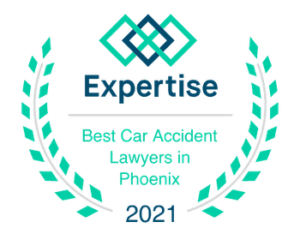 According to the Federal Motor Carrier Safety Administration (FMCSA), more than a dozen fatal accidents occur in the U.S. involving intercity buses and more than 70 fatalities involving transit buses. Thousands of bus-involved accidents resulting in injuries occur each year. Just as with other types of traffic-related accidents, there are several ways bus accidents can occur on Phoenix roadways and several potential sources of liability. Here is a look at some of Phoenix's common causes of bus accidents.
Accidents Involving Bus Driver/Carrier Negligence
The entities that provide intracity and intercity bus services are common carriers, which carry passengers on regular routes with set rates and whose services are available to the public. Because of this, the entity providing the service is under federal and state regulations.
The driver-who must obtain a commercial driver's license (CDL) to operate a bus on public roadways-is also under federal regulations and is required to perform several tasks to be qualified to drive. Those tasks include regular physical screenings, drug and alcohol testing, pre-trip inspections to ensure the vehicle is in safe and running order before each trip, and much more.
Unfortunately, despite the additional training required of the driver and the hiring procedures expected of the carrier, bus drivers can commit negligent actions that result in accidents. Drivers may fail to yield, fail to check their blind spots when changing lanes, and even drive too fast for the road conditions. Bus drivers can also be at-fault for injuries that occur to passengers due to being dropped off at a stop in an unreasonably dangerous area.
Those who can become injured or even killed due to a negligent bus driver include passengers on the bus, the occupants of other vehicles, and vulnerable roadway users such as motorcyclists, bicyclists, and pedestrians.
Accidents Caused by Other Motorists
Other drivers on the roadway can frequently cause accidents with other vehicles such as buses due to risky driving practices such as distracted driving, alcohol impairment, speeding, running red lights, and more. Because of the massive size of the bus compared to other vehicles on the roadway, occupants are at a higher risk of being injured or killed.
Slip and Fall Accidents on the Bus or at the Station
Common carriers have responsibilities for their passengers that begin when the passenger enters a bus station or arrives at a bus stop and continue until the driver safely drops off the passenger. One of these responsibilities involves ensuring that the bus station premises and the aisles of the bus are free from clutter, debris, and other obstacles that could cause an individual to become injured after slipping or tripping.
Frequently Asked Questions Following Bus Accidents
What is the duty of care owed to passengers on a bus?
The duty of care refers to the actions a reasonable individual or entity would take to protect others from harm.
Common carriers owe an advanced duty of care to their passengers, which requires:
An increased amount of liability insurance to compensate those who are injured.
Stringent requirements for those wishing to work as bus drivers, including a clean driving record, a CDL, and more.
Documentation the carrier must retain proving they have regularly maintained the bus and that the driver is taking regular breaks during work.
Careful inspection of bus stations to ensure they are free from hazards, as well as the requirement that the bus driver pays attention to the aisles of the bus to avoid hazards that can injure a passenger as they are getting on, finding a seat, or getting off.
Who is responsible if a bus accident occurs due to bad weather?
Individuals driving passenger vehicles and the operators of commercial vehicles such as buses are required to ensure that they and their vehicles are prepared for bad weather driving and to avoid driving if the weather poses unreasonably dangerous conditions.
Generally, accidents involving bad weather also involve negligence, such as the failure to ensure the vehicle's tires have enough tread for wet roads, driving too fast for the weather conditions, or not allowing enough distance for stopping on wet roads.
Is compensation available for me if I lost my loved one in a bus accident?
Yes. In Arizona, if a bus accident kills someone as a result of negligence that had they survived the accident with injuries would have warranted a personal injury claim, the claimant's family members can seek compensation through a wrongful death claim.
The wrongful death claims process is open to family members, including the deceased's spouse, children, or surviving parents. Additionally, if there are no surviving family members, the individual named as the executor of the deceased's estate can also seek compensation on behalf of the estate.
The compensation available through a wrongful death claim includes medical expenses for the deceased's final injuries, funeral and burial costs, loss of support provided to the family, loss of inheritance, and loss of comfort, society, guidance, and care that the deceased provided to their loved ones.
The Complexity of Bus Accident Claims
Personal injury and wrongful death claims involving bus accidents are one of the more complex types of claims for several reasons, including:
Governmental taxing agencies run many common carriers including Valley Metro. The process of seeking compensation from the carrier after an injury is slightly different than seeking compensation from an individual driver after a car accident. One of the biggest differences is the time permitted to file the claim in court. While a victim must file other personal injury claims in court within two years of the accident's date, in a bus accident, a victim must file against a public entity within 180 days.
The carrier is federally required to retain several types of evidence that can help a case if an accident occurs. This evidence includes information from an event data recorder that records how long the bus had been operating when the accident occurred, the braking and speeds of the bus before the accident occurred, vehicle maintenance records, and licensing information and performance reviews of the driver. Digital data event recorder and driver electronic log information involve digital files that can be overwritten if not obtained quickly.
While the bus driver's negligence can cause the accident, the transit authority or the company that owns the bus line is generally liable for injuries caused. They are liable because the driver's employer is responsible for ensuring they have met all federal and state regulations to operate the bus and is the one tasked with maintaining liability insurance for the vehicle.
When a bus accident occurs and results in passenger injuries, many victims may file personal injury claims against the carrier. While required to purchase a higher amount of liability insurance than the drivers of passenger cars do, the bus company's policy can quickly reach its limit due to these multiple claims.
How Our Phoenix Bus Accident Lawyers Can Help You With Your Claim?
As noted, bus accident injury claims can be extremely complex and overwhelming for the claimant who attempts to seek compensation without an attorney's assistance. An attorney works with a team of legal professionals who can make easier work of gathering the extensive amount of documentation needed to prove the claim. The attorney can use their experience with bus accident claims and their knowledge of the law to help the claimant avoid getting bogged down in the steps involved in the process. Here is a look at some of the services a bus accident attorney provides.
#1. Investigating the Accident
The attorney will investigate the accident to determine all liability sources and insurance available to provide compensation. Traffic-related accidents including those involving buses often do not feature just one source of liability. Instead, the negligence of multiple individuals or entities can be to blame, and the victim can utilize the liability insurance policies of each liable party to ensure that the claimant is fairly compensated.
#2. Valuing the Claim
A personal injury or wrongful death claim's value is not based solely on the monetary expenses they incurred for medical treatment. Instead, a victim must consider several factors, including how much insurance the at-fault party has, the severity of the injury, and the presence of permanent injuries that can impact the claimant's ability to earn an income in the future.
#3. Demanding Your Compensation from the Insurer
Once the attorney has determined a value to your claim, they will send the demand to the at-fault party's insurance provider. The provider will assign a claims adjuster who will evaluate the claim and determine how much compensation it feels it owes you, if anything. The adjuster can accept or deny the claim, or they can offer a settlement, which is an out-of-court resolution for less than the value of the claim.
#4. Negotiating a Settlement
The initial settlement offer for a bus accident claim is often far below the claim's stated value. The attorney can negotiate on their client's behalf to push the insurer to increase the offer. If the insurer makes a fair offer, the parties can reach a settlement agreement, and the claimant releases the at-fault party and their insurer from any additional liability.
#5. What Happens if the Insurer Won't Settle?
In the insurer will not settle the claim, the victim can file a personal injury suit in court. However, settlement offers can still come at any time before the court decides the matter, and many settlements finalize after the victim files a lawsuit. For the claimant to be able to pursue compensation, they must file their claim in court before the statute of limitations expires.
#6. Collecting Your Compensation
Once a settlement agreement is in place, or a court grants an award, the attorney will assist the client in obtaining compensation. Because personal injury attorneys work on a contingent fee basis, they are not paid for their services until there is a positive outcome to the claim.
Did a Phoenix Bus Accident Injure You? We Can Help
If a bus accident has injured you, a Phoenix bus accident lawyer from Hutzler Law, PLLC, can evaluate your claim for free and answer your legal questions about obtaining compensation for your injury.
Contact us at (602) 730-4530 for your free case evaluation.
Phoenix Bus Accident Lawyers
4323 N 12th St, Suite 101,
Phoenix, AZ 85014
480-841-9761